Baphomet v. Ten Commandments: Will Baphomet be moving to the Arkansas State Capitol?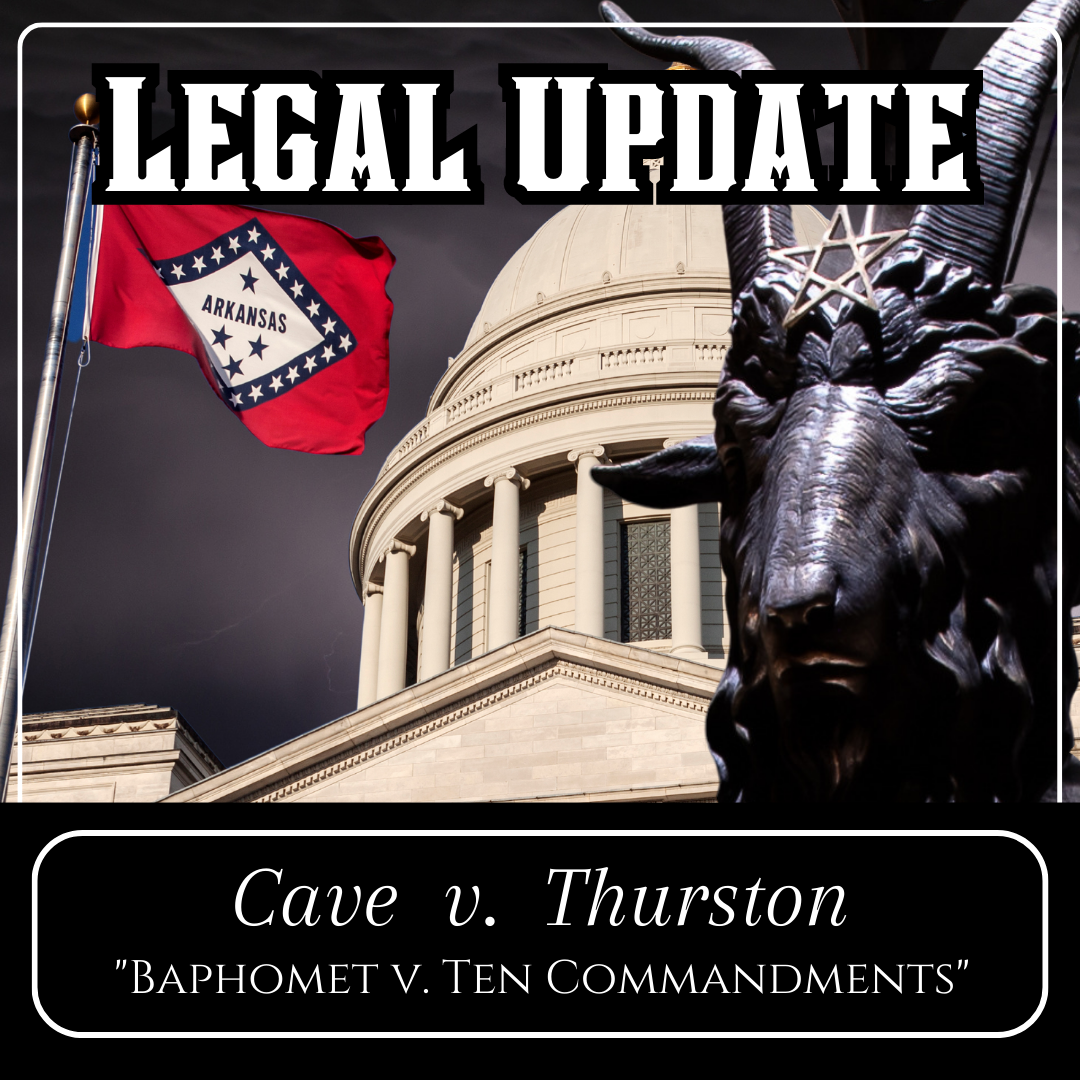 On Friday, July 7th, The Satanic Temple began the cross-motion hearing for summary judgment in Cave v Thurston, better known to the TST community as "Baphomet v Ten Commandments". This is a joint lawsuit filed by TST, the ACLU, and the Freedom From Religion Foundation against the state of Arkansas. The litigation began in 2016 when Arkansas erected a privately donated 10 Commandments monument on the public State Capitol grounds. The First Amendment prohibits the government from endorsing any particular religion, so TST offered our Baphomet monument to stand alongside the Christian monument. One AR lawmaker responded to the offer with, "Hell no, and you can quote me on that." That quote has now been entered into evidence of the state's unconstitutional preference for one religion over another.
The state seeks to subvert the Establishment Clause of the First Amendment by arguing that the Ten Commandments monument is not religious but actually a "historical" display, thereby permitting the exhibition at the state capitol without violating the separation of Church and State. In McCreary County v. American Civil Liberties Union (2005), SCOTUS ruled that a Ten Commandments statue by itself on government property was unconstitutional, but Van Orden v Perry (2005) provided some exceptions where the monument had been provided by a secular group over 40 years ago and was surrounded by many other monuments and historical markers. None of these conditions exist at the Arkansas capital.
U.S. District Judge Kristine Baker presided over the summary judgment hearing and announced she would take the arguments "under advisement" and issue a ruling. Summary judgment will be decided on within the next couple of months. The ruling may be that the case goes to trial in October. The Satanic Temple seeks to have our Baphomet monument installed alongside the existing Ten Commandments monument at Arkansas' State Capitol, or, if the Christian monument is removed, to allow Baphomet to be installed for an equivalent duration, ensuring equitable access for our religion in the public square.