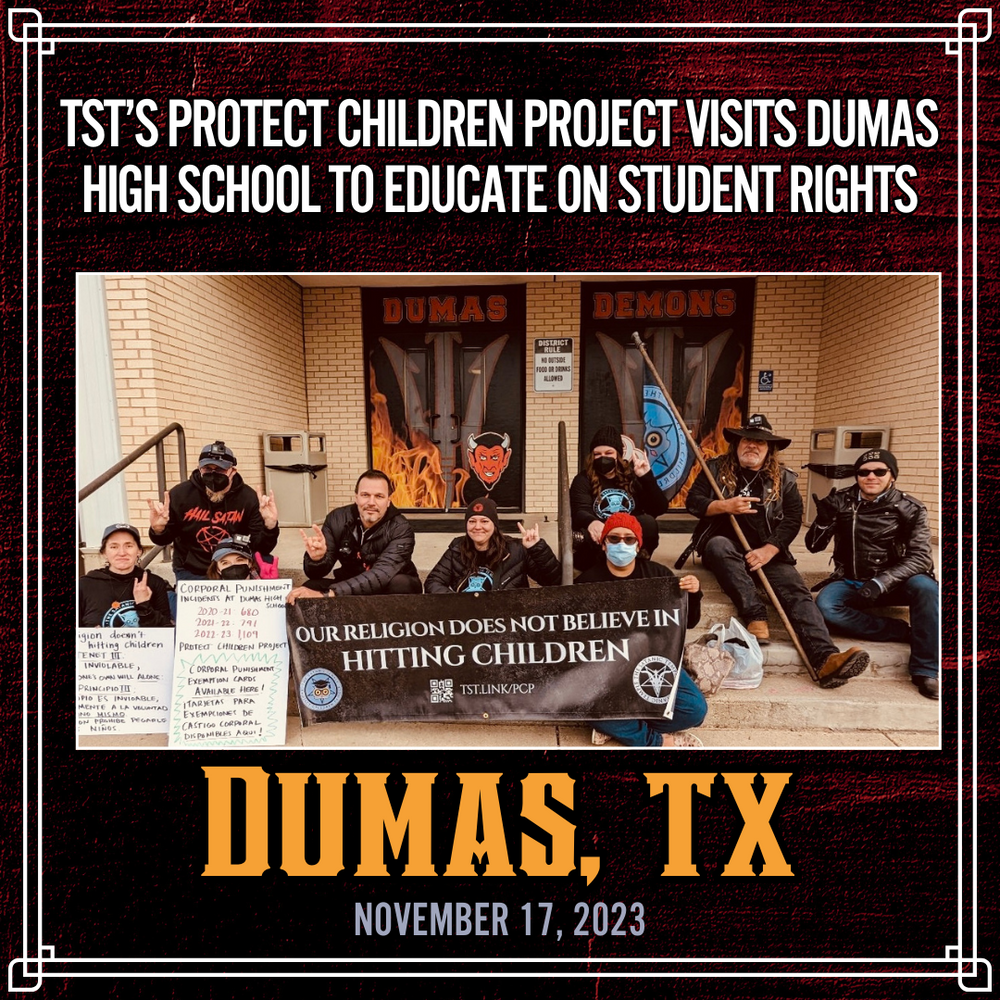 Members of The Satanic Temple's Protect Children Project (PCP) visited Dumas High School in Texas today to engage with students whose beliefs align with the Tenets of The Satanic Temple (TST) and provide information on how they can exempt themselves from corporal punishment and other abusive disciplinary measures. This visit comes in light of recent data obtained through the Freedom of Information Act, which revealed that over 1,000 instances of corporal punishment were recorded at Dumas High School in the last school year.

The Satanic Temple considers these practices not only a violation of their core belief in bodily autonomy but also harmful to students' well-being. Citing empirical evidence, TST argues that corporal punishment can cause long-term mental trauma in children while failing to produce positive educational or behavioral outcomes. In response, many students actively sought out the Student Rights Cards distributed by the PCP team, which spell out their religious right to bodily autonomy that protects against abusive disciplinary practices in school.
 
The event also saw heartfelt community support. A student TST member presented a homemade cake to the PCP team, while other residents gifted cookies and breakfast burritos.
The visit included the participation of a former student of Dumas High School, who is now a resident of the area. He recounted his experiences with the school's corporal punishment practices, painting a picture of a culture where students were often blamed for their physical abuse by teachers and administrators and told they deserved such treatment. He brought to light the socio-economic dynamics at play, emphasizing the stark choice some students faced between after-school detention and physical punishment. He noted that students from less affluent backgrounds often had no option but to accept corporal punishment, as their work commitments made detention unfeasible. The former student also highlighted how this environment perpetuated harmful masculinity stereotypes, fostering a culture that equated enduring corporal punishment with toughness.
The Protect Children Project's visit to Dumas High School is a pivotal moment in The Satanic Temple's ongoing campaign to uphold the religious rights of its student members. By advocating for exemptions from corporal punishment in public schools for its members, PCP is doing more than just challenging existing disciplinary norms; it is also reinforcing the fundamental principles of religious freedom and bodily autonomy. This visit to Dumas High School underscores PCP's commitment to safeguarding the rights and beliefs of TST student members, actively protecting them from practices that infringe upon these essential freedoms.