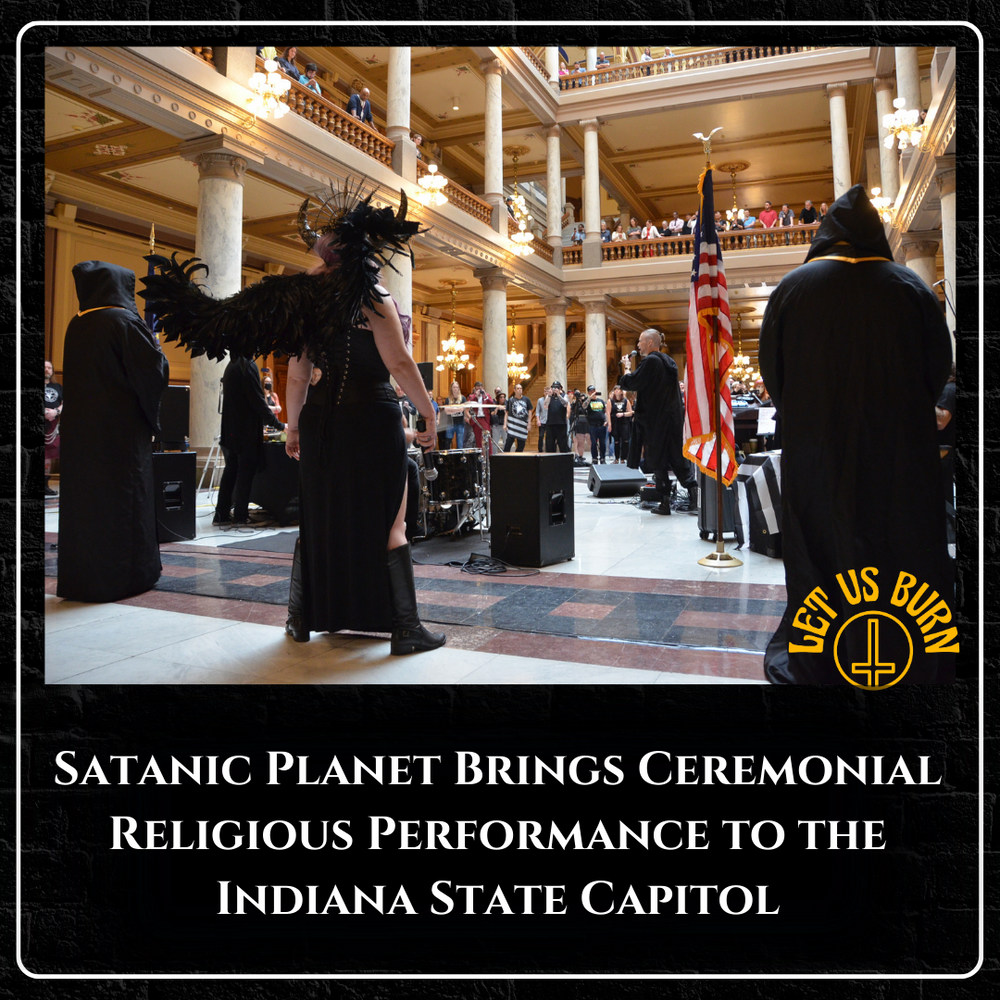 Satanic Planet, the band fronted TST co-founder and spokesperson Lucien Greaves, performed a free public concert at the Indiana Statehouse this Thursday. This show was part of Satanic Planet's "Let Us Burn" tour, aptly named and inspired in response to Christian missionary musician Sean Feucht's multi-year "Let Us Worship" tour, which was welcomed in Indiana's Capitol building.

Feucht, a preacher-influencer, was joined on stage during his performance at the Capitol building by Lt. Gov. Suzanne Crouch. Feucht prayed over the Lt. Gov, telling the crowd that Crouch was initially concerned she might "get in trouble" for giving Feucht access to Capitol grounds. However, Feucht assured the crowd that Lt. Gov. Crouch would be "filled with favor" for her "proclamation of the gospel."
Filled with favor she was indeed, as Satanic Planet submitted a request in May for their "Let Us Burn" tour to be allowed to perform within the statehouse as well. Subsequent back and forth, including a legal demand letter sent in June, forced the state's hand, and the event was finally approved.
Satanic Planet, with special guest Shiva Honey, ultimately played their public, free event in the Statehouse atrium to a crowd of supporters and religious freedom protesters. As is tradition with Satanic Planet performances, the set ended with their track "Unbaptism." The finalé featured an invitation for audience members wanting to be unbaptized by Ministers of Satan. A significant line soon emerged in front of the stage, with individuals seeking to shed the baptisms that had been imposed upon them as infants, all set against the backdrop of the Indiana State Capitol building. To end the show, Greaves shouted, "We love you all" while those protesting shouted jabs.

"…when Suzanne Crouch opened the doors for Feucht, she opened the doors for Satanic Planet. And whether you are here as a Satanist or in opposition to us, you should be proud that we still live in a nation where we can practice our own religious beliefs as we see fit, where the government isn't imbued with the authority to dictate our beliefs to us. A nation where these public grounds are equally available to us all." - Lucien Greaves
All photo credit: Randy Faust