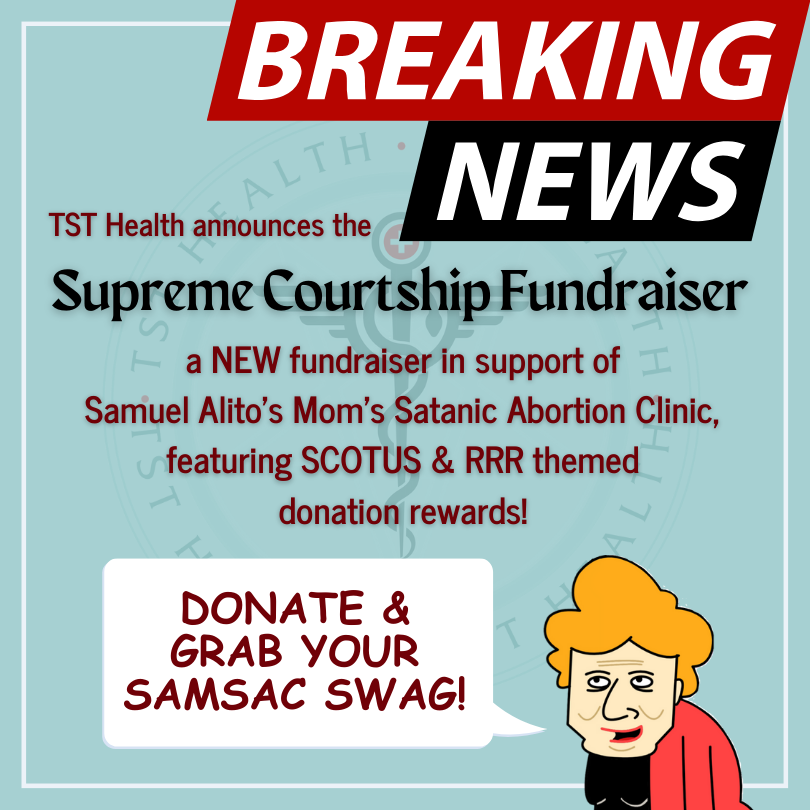 The Satanic Temple has announced a new fundraiser as part of its Religious Reproductive Rights Campaign. "The Supreme Courtship: Samuel Alito's Mom's Satanic Abortion Clinic (SAMSAC) Fundraiser'' focuses on supporting TST's telehealth clinic. Based in New Mexico, the clinic provides free services for patients seeking to complete TST's religious Satanic Abortion Ritual.

"Our fundraiser aims to ensure SAMSAC is able to remain an entirely free clinic," noted TST Executive Director Erin Helian. "Donations will directly support our non-profit clinic to maintain our 24/7 helpline, fully licensed staff, and financial assistance for patients who need childcare or funds to travel for their appointment."

The fundraiser has been designed with 'Courtship Milestone' donation tiers and incentive gifts with a distinct reproductive rights and Supreme Court theme, from the "Wham Bam Thank You, Benefactor" tier that comes with a one-night stay at The Satanic Temple's headquarters in Salem, MA, the "One Night Stand" tier at $35, or the nine special edition SCOTUS condoms included at the $100 level.

"Who better than the Supreme Court to provide the theme for a fundraiser centered around reproductive rights and furthering abortion access" quipped Helian. The fundraising drive has been scheduled to go for 60 days, and according to TST, will help establish the expansion rate for future TST Health clinics.
Visit tst.link/supremecourtship to support TST Health!